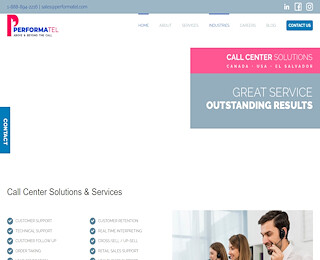 Connecting with your customers is more important than ever, and with the dawn of the technological era, it is easier than ever before. Providing the ideal customer service experience can be as simple as hiring the right call center. Any interaction with customers or clients is important to your business, so it is natural to want every interaction to go as smoothly as possible. However, hiring your own call center personnel can be stressful, especially if you can't keep good, professional help. Someone who curtly answers calls for customers is not someone who you want to be the voice of your business. If you are looking for quality call center help, you should only rely on the professional services of Performatel. We have the experience you need and the professionalism that will do what is best for your brand.
Call Center Hiring
Interacting with customers takes a lot of patience and knowledge, and it is not a job that everyone can do, but there is nothing wrong with that. Dealing with people and making sure they have a pleasant customer experience is not easy for all people. It takes a special kind of personality to enjoy working with the public, and it also takes special certified training to ensure the call person knows exactly how to help a customer. Your call center should know the ins and outs of your brand so that they can cater directly to the needs of your clients.
At Performatel, we can be the voice of your brand that is capable of so much more than answering phone calls. We have the power to do customer follow up calls, technical support, and even taking orders. There is no task, big or small, that our staff at Performatel can't handle. Our unparalleled approach to customer service is truly a force to be reckoned with.
Experience Matters Greatly
When hiring a call center, there is a lot of things that you should be looking for, such as their experience and their commitment to quality. We go above and beyond to make sure that the people we put in charge of connecting with your clients not only have a wide knowledge about your brand, but also is courteous, friendly, and easy to understand. We know that it is vital for your brand that you have a consistent customer service and call center team that will provide constant quality. Through the phone is sometimes how customers first experience your brand, and you want to make sure that you make a good impression. Let us lend a helping hand in that department by offering our professional level of expertise to be put to work for you. We strive to provide the most highly trained staff, so you can rest easy knowing that you are in good hands.
Reach out Today
There has never been a better time to reach out to our team at Performatel. We are ready and waiting to learn more about your call center needs so that we can provide you with the help you need.
Call Center Hiring
Performatel
1-888-894-2216
2600 Skymark Ave. Suite 102, Bld #3 Mississauga, ON L4W 5B2
View Larger Map
We welcome your comments!
GOING ABOVE & BEYOND THE CALL