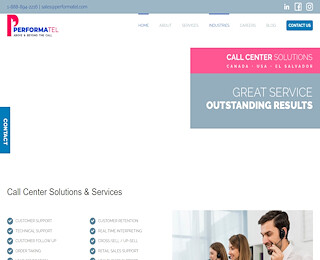 Customer service is one of the most critical aspects of your business. Your customers expect to have contact with an agent to assist with processing orders, answering questions, and more. While you may not have the ability or the resources to create your own customer service department, you can utilize the services of a call center service provider. There are many benefits of outsourcing this important part of your business.
What Are the Benefits of a Call Center Service Provider?
When you choose a call center service provider, you will get many benefits. One of the most important advantages is that you will provide your customers with access to a live agent at any time that you want. You can choose to provide access 24/7 if you like. You won't need to hire, train, or manage any of the call center employees. We train and oversee all of the agents and provide them with instructions according to your specific needs. You only need to pay for the services that you need, and you will benefit by not having to pay overheads and benefits. Instead, you will enjoy high-quality services at affordable prices. Best of all, your customers will receive the highest level of care and support.
Call Center Services Provider Options
At Performatel, we offer a wide selection of services that we can custom tailor to meet your needs. Some of our services include inbound client care, outbound support, technical support, service to sales, virtual assistant, social media support, and others. We offer the most advanced technologies, along with highly-trained personnel, to ensure that you give your customers the best experience possible. We help our clients evolve and grow their businesses with support for tweeting, messaging online chatting, and more. When you partner with Performatel, you can be sure that your customers will receive complete satisfaction with your company experience. We are results-oriented, and you will be able to view reports that show our support.
What Are the Main Features of a Call Center?
As a top call center service provider, our goal is to provide you with the highest level of customer support possible. We support voice, email, chat, social, and mobile interactions through live agents and artificial intelligence in a variety of languages. Our services offer affordable rates that will fit your budget. We are HIPAA compliant and provide 5-star support for all your customer needs. Our team is professional, and we care about customer service. In addition to standard customer service support, we will help you identify up-sell and cross-sell opportunities and work to retain customers.
Choose Performatel
Performatel is an affordable nearshore call center service provider with locations in San Salvador and El Salvador. Our main office is located in Toronto, Canada. We provide innovative support for all your customer needs. You can find out more about our excellent services online. We are always on the cutting edge of technology and work to grow your business and drive positive business change. Contact us today to learn more about our services.
Performatel
1-888-894-2216
2600 Skymark Ave. Suite 102, Bld #3 Mississauga, ON L4W 5B2
View Larger Map
We welcome your comments!
GOING ABOVE & BEYOND THE CALL