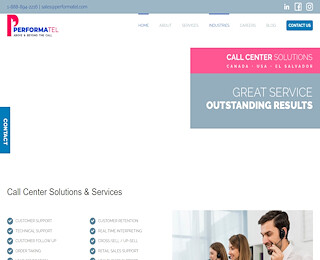 Customer service is one of the essential parts of your business. Your customers expect a high level of care when they call your company. You don't need to hire an entire workforce to handle your calls. Instead, you can choose professional call center services. Performatel provides high-quality customer service to meet all your needs. Your customers deserve the best, and we are ready to offer it to them.
What Call Center Services Do You Offer?
At Performatel we offer a wide range of services to meet your needs. Some of our services include inbound client care, outbound support, technical support, customer care, service to sales, virtual assistant, social media support, and more. We are HIPAA compliant. Whether you need live customer or sales support, online chat, or any other service function, we are here to handle the demands of your customers. We align our goal with yours – to achieve satisfied customers. We are happy to help you achieve your goals.
Provide Expert Customer Service
At Performatel, we provide expert customer service, so you don't need to worry about that aspect of your company. When you partner with us, you know that customer service is never going to be a problem. We care for your customers professionally and expertly. We know that customers want to be heard, and we help you listen. We support voice, email, chat, social, and mobile interactions with live agents and artificial intelligence in a variety of languages of your choice. We pair advanced technology with the best agents to bring you top quality services.
What Are the Benefits of Call Center Services?
Our call center services offer many benefits to your company. You will be able to quickly provide support to your customers without having to hire your staff. You can choose the hours of service that you prefer. Our services offer a reliable and affordable way to handle customers professionally. We provide excellent service quality, and we operate from two locations in Central America.  We provide multi-language services. We help you streamline the processes, achieve new sales, and retain existing customers.
Choose Performatel
Performatel is a leader in call center services. We have offices in Toronto, Canada, El Salvador, and San Salvador. We offer a total contact center capacity of 500 agents. We train our professional agents to be the voice of your brand. We are a top choice for nearshore BPO outsourcing. We have successfully provided service to many large companies, including some Fortune 500 companies, government organizations, and banks. We go above and beyond the call to provide the resources you need to run and grow your company. Our locations are easy to get to when you want to visit our customer service centers. When you are ready to take the next step towards excellent customer service, we are prepared to talk. We will work with you to create a call center plan that meets your specific needs and budget. Visit our website to get started today.
Performatel
1-888-894-2216
2600 Skymark Ave. Suite 102, Bld #3 Mississauga, ON L4W 5B2
View Larger Map
We welcome your comments!
GOING ABOVE & BEYOND THE CALL