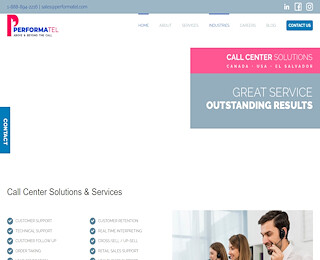 Customer communications have always been a crucial point in business success. In recent years, it has become imperative for companies to pay more attention to them. Customer expectations have risen, and this requires an ever-increasing level of service. It is then necessary that companies have to optimize the different channels through which their customers can contact them.
One of the most important is the telephone calls. The wisest way to maintain an ideal level of service over the phone is to have a company that provides you with extraordinary inbound call center services. It is essential that you understand the great benefits that this type of outsourcing will bring to your business.
Why is it Necessary to Have An Outsourcing Inbound Call Center?
No matter how much technology advances, the telephone conversation is always warmer and more personal. The development of an extraordinary conversation with a lead or a customer will improve the way customers see your brand, increase mind awareness, and positively influence their purchasing decision. That's why it's essential that these interactions are handled masterfully.
The staff of an extraordinary company that provides inbound call center outsourcing is qualified and trained to achieve the maximum benefit from each call. This will allow the client to feel heard, attended, and considered. If you would like more advice, contact us; the Performatel team will be happy to help you.
Which Are the Advantages of Inbound Call Center Services?
Greater Productivity: the more an external company handles communications, the more time your team will have to devote to core business. This will significantly impact the productivity of the team since your staff will not have to double the time to attend clients and other responsibilities.
Increase Conversions: dealing directly with the customer with a professional team focused on results will significantly increase sales. It is easier to launch a product to your current or potential clientele through direct contact with qualified personnel. Besides, with this optimized channel, your work team will be able to improve the other strategies, so that the company can maximize its chances of conversion by all possible means.
Optimize Costs: implementing a high-performance call center in a company implies a significant expense. In the first place, you must hire more personnel, and also invest in the training of the same. Also, you must make improvements in your telephone network to allow the call center to work fluidly. The cost of outsourcing an inbound call center is significantly lower, and you will be reassured knowing that your clientele is served extraordinarily.
Availability: one of the characteristics of today's market is that it never closes. The fact of competing in the global market makes it necessary for you to be available to the client 24/7. Having a call center will allow your business to serve people at any time. This will not only help you to increase the satisfaction levels of your current customers but also serve leads from other time zones.
Trust the Experts
If you want to increase the profitability of your business with the most outstanding inbound call center services, you are in the right place. Allow Performatel's team of specialist operators to serve your clients, making them feel welcome, listened to, cared for, and pampered. It's time to boost your business, and Performatel is here to help you do it. Contact us.
Performatel
1-888-894-2216
2600 Skymark Ave. Suite 102, Bld #3 Mississauga, ON L4W 5B2
View Larger Map
We welcome your comments!
GOING ABOVE & BEYOND THE CALL