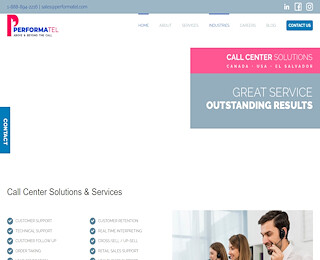 Companies have several departments that communicate with their customers. However, most of the times, the businesses do not achieve effective customer-company interaction due to unavailability. Call centers are now assisting companies to improve their services by helping their clients solve problems from the comfort of their homes. The centers mostly have a large market share in customer care departments, sales departments, and accounts receivable departments. Are you looking for reliable and effective call center services? We've got your back.
At Performatel, we offer inbound call center solutions to businesses regardless of how small or big they are. We are always available to help you with your customer-business interaction needs. Our support services range from voice, chat, email, mobile, and social interactions through both Artificial Intelligence and live agents in various languages.
Why Does Your Business Need Call Center Services?
A call center receives and transmits phone calls. Companies hire call centers to represent them in activities such as debt collection, telemarketing, and product promotion services. Here's how call centers benefit businesses:
Builds Customer Confidence and Loyalty
Customers want to shop from a company they can always reach in case do not receive the product they ordered or when there's a problem with the product. When purchasing online, some customers prefer to make calls. According to a recent survey, most customers do not like emailing their concerns since they have to wait for feedback. Phone calls, on the other hand, means the customers get instant feedback.
A company that handles their own calls and depends on voicemail for backup only gets a fraction of their potential customers' requests. 90% of customers will not take their time to leave a voicemail when intending to make a purchase. They look for an alternative supplier instead. When all the staff is on call, any additional phone call is forwarded to the call center, lowering the waiting time for customers. 
What are The Tips for Choosing A Call Center?
There are thousands of call centers globally. The following factors will help you narrow down your choices to get the best call center for your business:
Can the call center handle calls from your country only, a few other countries, or all around the world? Choose a call center that can make phone calls worldwide. The ability to speak in multiple languages is also an added advantage.
Let the size of your business determine the size of the call center you need. A vendor that is too big compared to the size of your company will only lead to increased costs, while a smaller one will not meet your demands.
Types of Call Centers
Based on the kind of job the agents do, call centers can be categorized into inbound, outbound, domestic, and international call centers. The centers can also be classified as either in-house or outsourced call centers depending on who owns them.
Where to Get Call Center Services
Let us help you not miss any important business calls with our inbound call center solutions. At Performatel, we focus on quality and affordability. To outsource your company's support, call us today on 1-888-894-2216.
Performatel
1-888-894-2216
2600 Skymark Ave. Suite 102, Bld #3 Mississauga, ON L4W 5B2
View Larger Map
We welcome your comments!
GOING ABOVE & BEYOND THE CALL